Health Plus Care Online: Digitisation in the Age of COVID-19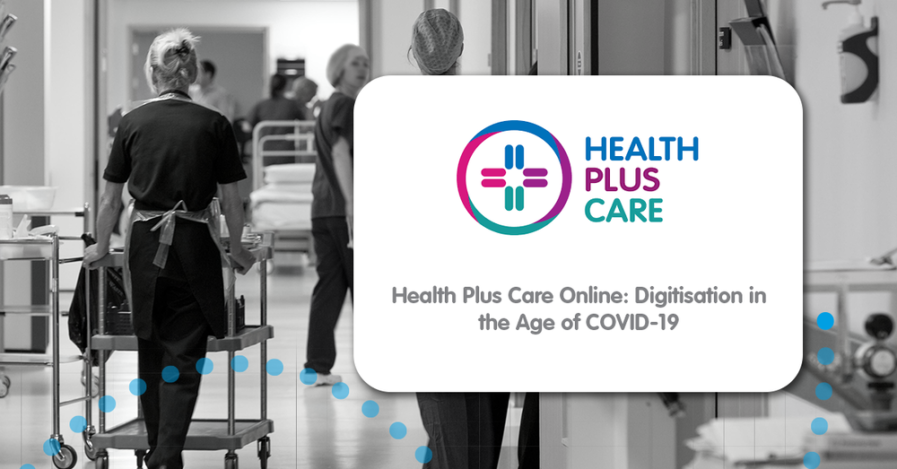 Health Plus Care recently hosted an online event titled 'Digitisation in the Age of COVID-19', focusing on the state of health and social care during the pandemic, as well as the future of the sector.
Health Plus Care Online is the leading event for the entire health and social care community. The virtual conference included case studies, panel debates, and keynote speeches, delivered by healthcare leaders, policymakers, strategists, and the individuals who are making the true difference on the front line.
State of the Nation: Digitisation and Medical Technologies 
First, we joined a session on the current state of healthcare, and how recent events have presented people with an opportunity to think and act differently moving forwards. The discussion was chaired by Dr.Harpreet Sood, NHS England's Associate Chief Clinical Information Officer, and Nicola Blackwood, Co-Chair of Health and Life Sciences Policy Board – Public Policy Projects.
The session coincided with the launch of a Public Policy Projects report, which has synthesised perspectives to provide a narrative and a set of recommendations on how digitisation of health and care should proceed. With the global situation of 2020 forcing an accelerated action for digital ways of working, decisions need to be made as to how to continue this momentum in the context of rethinking technology-led healthcare.
Sarah Wilkinson, CEO, NHS Digital commented how critical and topical this report was at this moment in time. With the UK health system having responded so quickly to working in different ways since the start of the pandemic, she emphasised that it is now important to reflect on the past 12 months when it comes to future plans. Sarah commented that topics including data, inequality, and accountability have been included in the report. These touch on conversations that have already begun around big tech and data privacy, making digital products more accessible to more communities, and integrating care systems.
James Bethell, Minister for Innovation, Department for Health and Social care also explained that the report was the result of two years of incredibly hard work. He said that the intention now is to use legislation to remove transactional bureaucracy and free up the system to continue to innovate and embrace technology. James commented on the significant innovations of the past year, that reduce demand on the frontline and ultimately save lives across the UK.
Matthew Gould in conversation with Hassan Chaudhury 
Another poignant talk at the event was an opening conversation between Matthew Gould, CEO, NHSX, and Hassan Chaudury, digital health specialist, Healthcare UK.
When tackling digital transformation within the UK healthcare system, it is vital that digital transformation can move out of its silo within health and social care. The changes that are needed won't happen if digital operations are left to specific employees within an organisation, whether this be on a national or  business level. Leaders need to take charge and accept that digital transformation needs to be a priority for all. NHSX will now integrate with a larger effort within NHS England, and this will help drive change for those tasked to do so.
The silver lining during the pandemic has predominantly been the progress in digital transformation that previously would have taken years, but has instead taken weeks. For example, there have been significant moves in outpatient appointments, as well as improved flow of data throughout the NHS system.
A few areas in particular that Matthew was proud to discuss were the improved data insights, and connectivity improvements made over the last 12 months. The NHS data store has provided granular data to highlight who needs resources the most, during times of scarcity. Equally the freedom to share patient data and information has been made far easier for individuals acting with patient best interests in mind. Providing better connectivity to care homes was another achievement over the past year, with 11,000 ipads offered to homes, allowing families to communicate. A deal with Microsoft has not only saved the NHS £300million but is allowing people who need it to become better connected than ever before.
The challenge now is around how to deliver these future plans with legacy systems in place. NHSX has been working on creating better guidance, leadership and direction, to provide clear and open standards that are easy to follow. Importantly there has also been a big push to integrate health and social care. This is at the heart of NHSX's plan and firmly part of the brief, and while presenting different challenges, must be met in tandem.
At Navenio, we look forward to contributing to these plans over the next year and beyond. By  providing infrastructure-free indoor location solutions, the equivalent of GPS for use indoors, we will continue to support healthcare settings and power a range of apps and platforms to help them become better connected and increasingly efficient.
To find out more about Health Plus Care Online or catch up on any of the sessions on demand, please visit the website here.