How Navenio can help the UK to meet the Health Secretary's 'ABCD' plan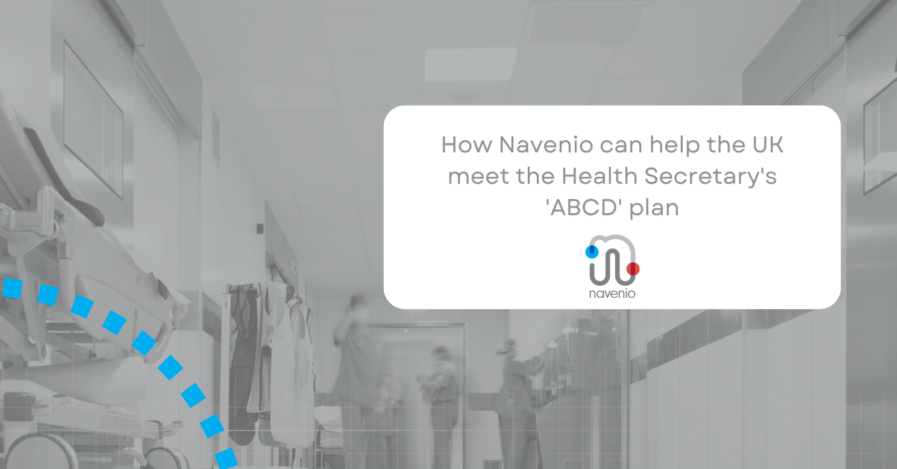 With the entrance of a new cabinet, we are seeing new promises for the healthcare sector. The new Health Secretary, Therese Coffey, has recently unveiled her four-step plan, 'ABDC', to tackle the NHS delays in her new position. 
Her goal is to put the NHS back on track starting with ambulances, backlogs, care, doctors and dentists, otherwise known as the 'ABCD' approach. According to the BMA's recent analysis of the NHS backlog, a record of over 6.84 million people waiting for treatment with an average waiting time around 13 weeks for treatment. 
Waiting times for life saving procedures have been mounting lists with a growing number of patients not being seen. This has created a crisis for the NHS that may need more action than new reforms. With Navenio's Intelligent Workforce Solution technology, these waiting times can be reduced by improving the efficiency and workflow of staff and teams through automation, carefully driven from real-world best practice.
Although these reforms aim to improve this may only be possible to an extent. Using clinical teams may only slightly optimise the supporting logistics teams, and underpin patient flow throughout a hospital to a point. Over the next coming months, we hope to see improvements to the healthcare industry through these new reforms. However, Navenio is continuing to strive for improved workforce efficiency in the indoor workspace and transform healthcare teams to ensure the 'right person, right time right place' is able to provide care and manage their workload.
Our technology has enabled the fusion of inertial and Wi-Fi data to accurately detect the persistent presence of the workforce across the hospital. This real time workforce presence combined with automatic task allocation has supported the workload of hospital workers, ensuring efficiency and employee support. The system can drive improvements with data being constantly adapted to increase the effectiveness of scheduled and reactive work. We are continuing to develop and deploy our technology across hospitals to both empower the workforce and for greater efficiency and transformation of the healthcare industry. 
To keep up to date with Navenio's latest news and views, follow us on Twitter and LinkedIn.