Navenio Hires New CEO To Drive US Expansion Following 153% Growth in 2021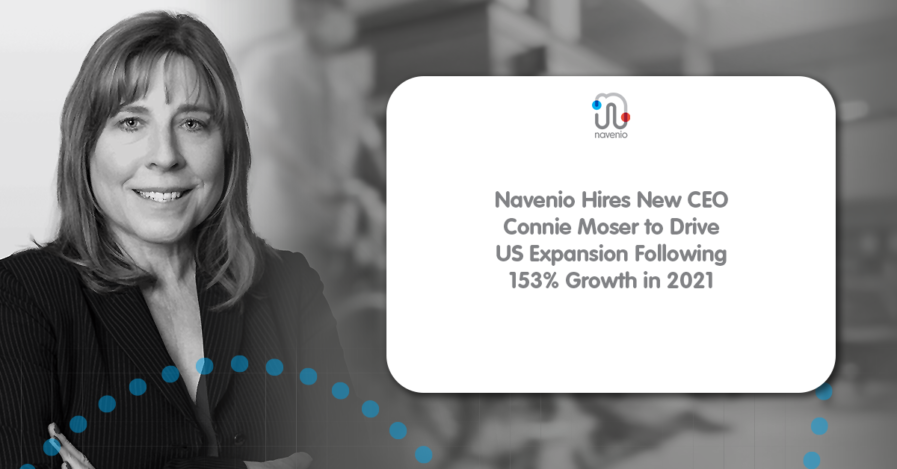 Today we announced plans for our next chapter of growth and expansion into the US, following a £9.5 million investment awarded last month. We're delighted to welcome our new CEO Connie Moser, who joins Navenio with more than 30 years of experience in healthcare strategy, sales and operations, including building large-scale businesses across global markets. 
After seeing a 153% increase in revenue in 2021, we're proud to also welcome geospatial expert Andrew Loveless to the team. He will focus on driving innovation outside of healthcare in his role as VP of Business Development. The appointment comes after our recent partnership with HERE Technologies, to power the Indoor Positioning element of its Indoor Map as a service: a one-stop shop for indoor mapping solutions. 
Connie Moser, new CEO of Navenio, commented: "I am joining at a pivotal time for Navenio and am delighted to drive our expansion in the US and beyond. I look forward to building strong global partnerships and believe passionately in the vast potential that Navenio can bring by ensuring 'right person, right place, right time' in healthcare settings. Artificial intelligence is one of many technologies making a real world impact in the healthcare sector, and I'm proud to lead a company spearheading digital transformation"
Martin Moran, Chairman at Navenio commented: "I'm delighted to announce our plans for growth and welcome both Connie and Andrew to the Navenio team. The possibility of indoor location technology is vast and we're excited to be expanding into the US, providing the benefits of our technology to everyone, everywhere."
Following recent funding from NHSX, as part of an AI in Health and Care Award, Navenio is also currently developing a proven and nationally scalable evidence based solution to further support improved patient flow across the NHS. The first live sites, as part of the 13 hospital Award programme, have already delivered a positive impact to Trusts, staff and patients, with the full results due to be published later in 2022. 
To stay up to date and follow our progress, check out our LinkedIn and Twitter for regular news.