Navenio Named as Key UK AI Startup to Watch by TechRound and Maddyness Magazine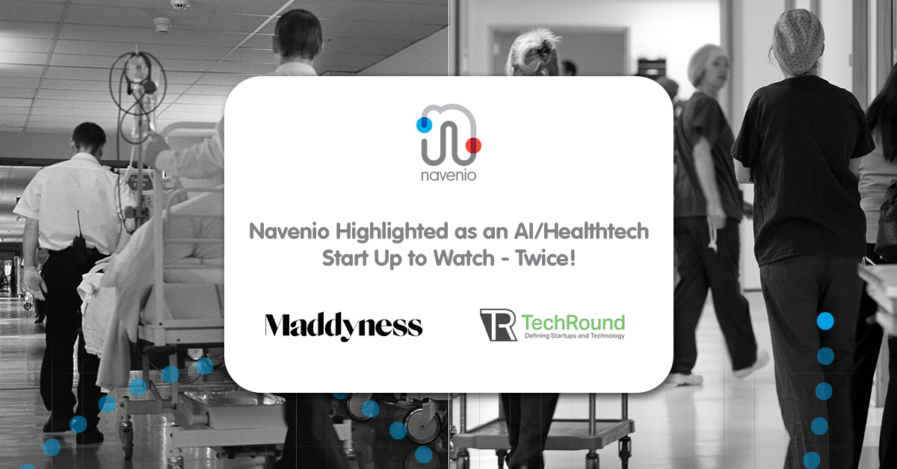 The UK's AI startup scene has grown by 600% over the past decade, with the sector bringing in £2.41 billion worth of investment in 2020 alone. Unphased by the pandemic, last year UK AI saw a 17% increase in VC investment, which is more than any other country globally. In light of this news, Navenio has been named as one of the UK's key startups to watch as the sector grows even bigger in 2021 and beyond. 
TechRound has recognised Navenio as a UK AI startup paving the way in 2021. Named alongside Limitless and Vivacity Labs, Navenio is pioneering infrastructure-free location technology (powered by AI motion tracking) to connect healthcare teams and make them more efficient, which in turn is improving patient care. Navenio has also been successful in securing funding in the latest round of the NHSX AI in Health and Care Award, and is a key emerging UK digital health tech company with a vision to unlock challenges facing global healthcare.
Equally, Maddyness has recognised the dramatic growth in healthcare technology, digital innovation and telemedicine. In a roundup of UK-based healthtech startups, including Push Doctor, Doccla, Cera Care, that are transforming the lives of professionals and patients alike, Navenio has been commended for recent NHSX funding and its infrastructure free approach to digitalisation of workforce efficiency.  
As the sector shows no signs of slowing down, Navenio continues its growth supporting healthcare teams and patients as the world looks forward to a post-pandemic recovery. 
To keep up to date with the latest news from Navenio, follow us on Twitter or LinkedIn.