Navenio Recognised for MedTech Success in '12 Clusters of Tech Report'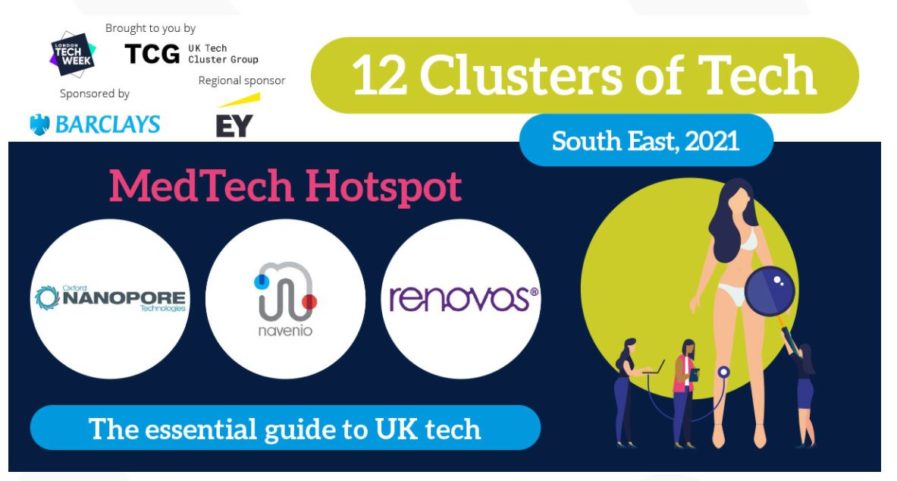 A new 12 Clusters of Tech Report has been released by the UK Tech Cluster Group and London Tech Week to showcase the South East's tech success. With a £91billion turnover generated by almost 50,000 companies, the South East's tech hub is central to the UK's global reputation as a technology pioneer. 
Navenio is one of the MedTech companies to be recognised in the report for its contribution to the sector in the South East. The report offers insight on how the Navenio solution is representing Oxford and the wider region as a global health and life sciences powerhouse, by transforming the way hospitals operate worldwide with its indoor location solution. 
Navenio is proudly featured alongside other innovative MedTech talents within the region, including Nanopore, a health tech firm that specialises in scalable DNA and RNA sequencing technology and Renovos, a nonoclay gel technology platform. CreaTech and SpaceTech companies, including Creative Assembly and Oceanmind, also make up part of the report, which was derived from the UK Tech Cluster Group and London Tech Week's research on the landscape over the past twelve months. 
"As a spin-out of Oxford University, Navenio's roots have been embedded in the city from the very beginning. The city is full of great potential and has gone from strength to strength over the past few years, despite the challenges of COVID-19. With health tech having a particularly strong presence in Oxford, we're proud of the work Navenio has done this year to mitigate infection rise and help hospitals become more efficient". Niki Trigoni, CTO and Co-Founder at Navenio commented
To keep up to date with the latest news from Navenio, follow us on Twitter or LinkedIn.