How Real Time Location Service can help the health sector recover from the pandemic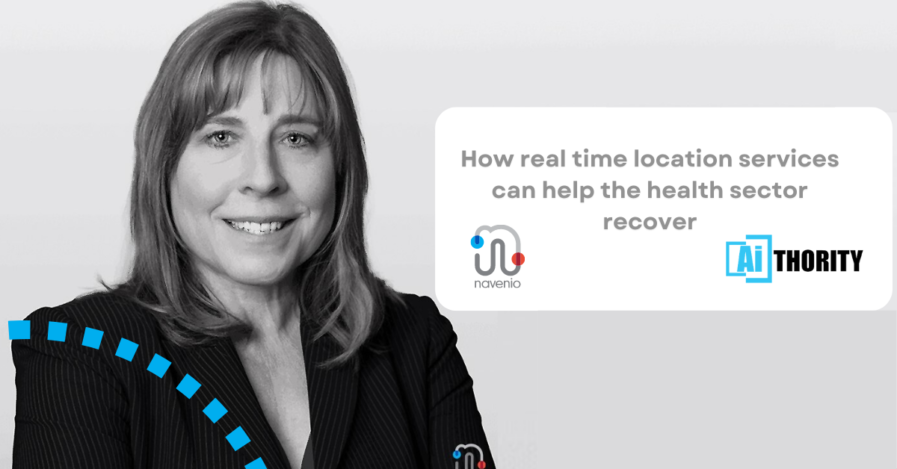 Navenio's CEO, Connie Moser, spoke with AiThority on how Real Time Location Services can help the health sector recover beyond the pandemic.
Here are some of Connie's key messages:
There is no doubt that the pandemic has left a significant mark on health services workers in the US: leaving them not only feeling physically burnt out because of the long shifts but also mentally exhausted as they face unprecedented challenges at work. With this in mind, our CEO Connie Moser, spoke with AiThority about how real time location services can aid the health service post pandemic. 
The U.S. Bureau of Labor Statistics estimates that nearly half a million workers have left the health-care sector since February 2020. The situation hasn't been getting any better. In fact, in September last year, the American Association of Critical-Care Nurses launched the Hear Us Out campaign with the aim to show the reality of Covid19 from frontline workers. Its recent survey highlighted the scale of the impact on the health services workers: 
92% of nurses surveyed said they believe the pandemic has depleted nurses at their hospitals

66% feel their experiences during the pandemic have caused them to consider leaving nursing
How to solve the issue of having right person, right time, right place
It is clear that the nursing shortage in the US is an issue that cannot be solved overnight: the American Nurses Association (ANA) has been urging the US Department of Health and Human Services to declare this a national crisis.
Learning from the last 24 months, many sectors have embraced technology – whether willingly or reluctantly – as a way to get businesses to be more agile and adapt more easily to unexpected circumstances.
Therefore, when it comes to health services, any technology that can enhance patient flow and hospital or clinic capacity to increase revenue is welcomed. Real Time Location Systems (RTLS) are one such technology that has been playing an increasingly important part in the healthcare ecosystem, particularly scalable easy-to-deploy solutions that are based on smartphones and require minimal or no infrastructure.
Navenio's Integrated Workforce Solution (IWS) which requires no additional captial infrastructure to be deployed provides the next generation of RTLS. IWS  can help move people quickly and efficiently by improving patient flow – from discharging patients more quickly to getting beds changed, to finding assets, reducing patient waiting times, improving patient care, supporting clinical staff in a hospital environment and tracking assets globally.
Navenio users in hospitals have reported an increase of 175 hrs/week in added time for clinicians to care for patients, 29% reduced wait times, 40% faster response time, leading to increased patient safety, and 20% increase in capacity.
By providing real time location information, healthcare workers in hospitals have been able to increase the number of tasks completed by 94% and reduced bed turnaround time by 35%.
Navenio solutions are proving to be a critical tool in helping drive productivity, reducing wasted time in searching for resources, freeing up doctors from admin tasks and improving patient flows particularly in departments such as imaging and logistics, where locating issues are more experienced.
It's a dynamic alternative to manual logging and much needed in an industry which is so focused on doing more and doing more with less. RTLS can enhance the patient experience and further improve hospital and healthcare worker resilience.
This is an important step forward as we see technology as a key enabler to help not only ease the pressure on health service workers, but also help them find the vocation and passion for their job again. 
Ultimately, Navenio is supporting healthcare systems in improving efficiency, helping with workload of overworked healthcare workers thus crucially allowing for better care to be given to patients. 
To keep up to date with Navenio's latest news and views, follow us on Twitter and LinkedIn.