Telegraph: Inside Oxford's War on Covid-19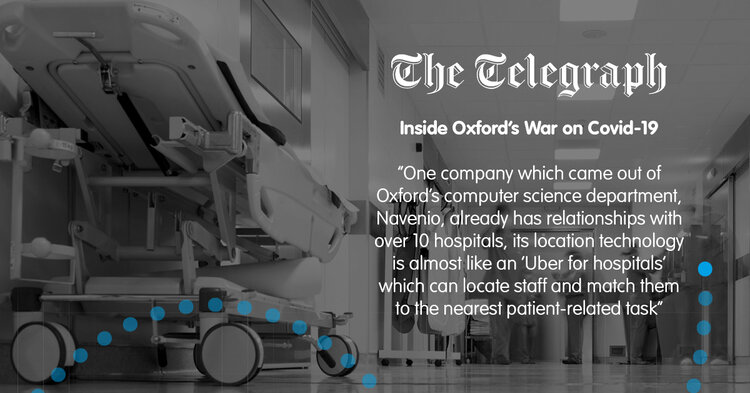 Last week, our CEO Tim Weil spoke to The Telegraph for an article, published today, on what Oxford-based businesses are doing to help tackle the Covid-19 pandemic. With our close ties to Oxford University, and investment from many parts of the Oxford ecosystem, we were delighted that Tim got the chance to showcase how Navenio is playing its part in helping fight the crisis, by enabling hospitals to increase their efficiency and provide vital equipment to staff more quickly.
The article by Hannah Boland starts with a reality we are all too familiar with "In Oxford, like every city across the UK, things appear to have come to a halt. The streets are almost deserted, a few bikes zigzagging across the roads, buses arriving and departing with no one getting on or off. But, looks can be deceiving. Inside the ancient limestone buildings and vast labs, it is a hive of activity"
It goes on to discuss the breakthrough vaccine and data analysis underway in Oxford but also recognises that:
"…aside from diagnostics, there are other major strides being made by companies in the city to help tackle the virus. One company which came out of Oxford's computer science department, Navenio, already has relationships with over 10 hospitals, its location technology is almost like an "Uber for hospitals" which can locate staff and match them to the  nearest patient-related task.

Up until now, this has broadly been used to help connect people like porters to patients once they need to be moved from one place to another, but boss Tim Weil says now hospitals are using the technology to help manage tasks of  different groups of staff to limit infection risks, making sure only those in specific teams are allocated to certain tasks, and improving how efficient hospitals can be in using their limited resources"
The full article can be found here and more detail on Navenio's Covid-19 assistance can be found here.