Navenio and HERE Technologies to Bring Increased Efficiency to Indoor Location & Mapping with Global Partnership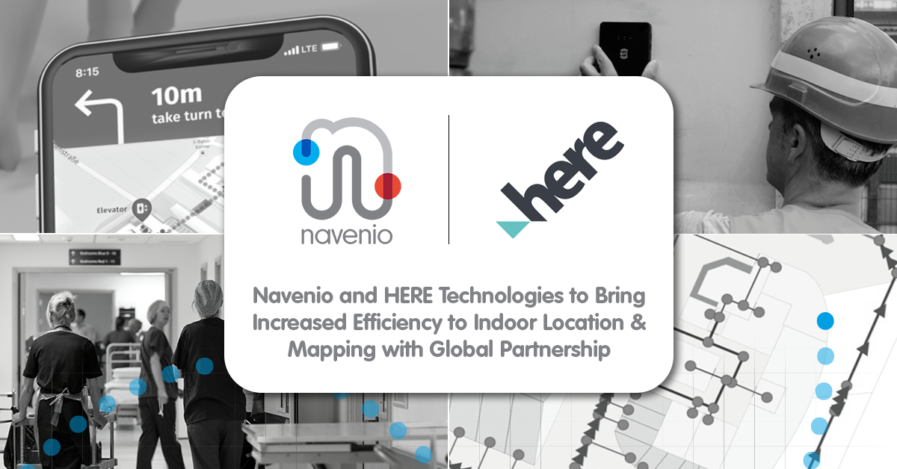 We are pleased to announce our partnership with HERE Technologies, the leading location data and technology platform, to optimise efficiency, capacity and safety within indoor settings.
The partnership with HERE focuses on providing indoor wayfinding to a range of industries such as healthcare, retail and public transport. Our infrastructure-free and highly scalable indoor-location solution will be combined with HERE's location platform – including services such as Indoor Mapping and Routing – to guide teams through indoor environments and enhance their understanding and experience of spaces. HERE Technologies also has an extensive solution portfolio for urban mobility, supply chain visibility and connected driving that offers seamless indoor/outdoor navigation.
Victor van Dinten, Head of Indoor Parking & Charging, HERE Technologies, added: "Our work with Navenio will have a hugely positive impact on the way that we navigate the indoor world. After kicking off our wayfinding project, we look forward to using our partnership to grow existing HERE solutions such as real time asset-tracking, on a global scale."

Our CEO and Co-Founder, Tim Weil commented: "Navenio is proud to be partnering with HERE Technologies to widen the scope of our existing work and enable more teams to realise the benefits of going digital. Indoor location technology is creating transactional efficiencies that are crucial in optimising the workforce. We're proud to be delivering enhanced efficiency and capacity with our global partnership."
By using existing smartphone devices, Navenio's technology localises people within a broad range of contexts. For example, in the healthcare sector, it's Intelligent Workforce Solution (IWS) has enabled a wide range of workflows to become more streamlined, from portering to cleaning, catering, and the location of assets. Our partnership with HERE, a platform-as-a-service for buildings deploying and scaling location solutions, will help a number of complex settings, such as hospitals or hotels, become data-driven.
To keep up to date with news and views from Navenio, follow us on Twitter or LinkedIn.