Navenio named in Deloitte's Fast 50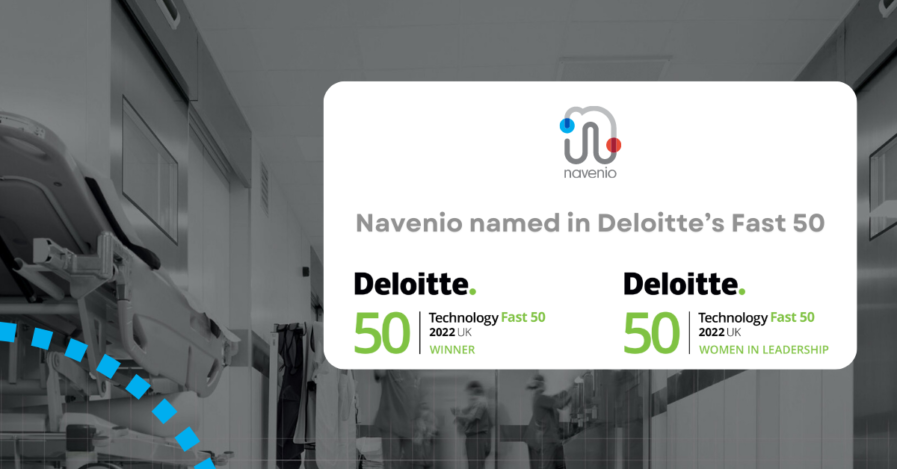 Navenio has been ranked 43rd out of 50 in the 2022 Deloitte UK Technology Fast 50, a ranking of the 50 fastest-growing technology companies in the UK.
The recent rankings are based on percentage revenue growth over the last four years and we have grown 923 percent during this period, following healthcare teams turning to digital solutions as they looked to get back to full capacity and address the backlog. 
In addition to ranking in the UK Technology Fast 50, Navenio also ranked 7th within the Deloitte inaugural Women in Leadership Award. The Women in Leadership category was created to specifically recognise those companies within the Technology Fast 50 that are either led by a female CEO or have a founding team of at least 50% women.
Navenio's CEO, Connie Moser, commented: "We are thrilled to receive the prestigious ranking in Deloitte's Fast 50. The phenomenal growth that the company has had over the past years is a reflection of the hard work, dedication and innovation of the whole Navenio team."
This year's ranking comes as we scale into the US and other locations across the globe with our agile infrastructure free RTLS solutions based on smartphones, which will double workforce productivity while at the same time increasing patient flow and deliver quality care. 
You can view the full list of Deloitte's 50 fastest-growing UK technology companies for 2022 here and its fast 50 insight report here.
To keep up to date with news and views from Navenio, follow us on Twitter or LinkedIn.