Navenio's founder Niki Trigoni named CTO of the Year at the 2023 Women in IT Awards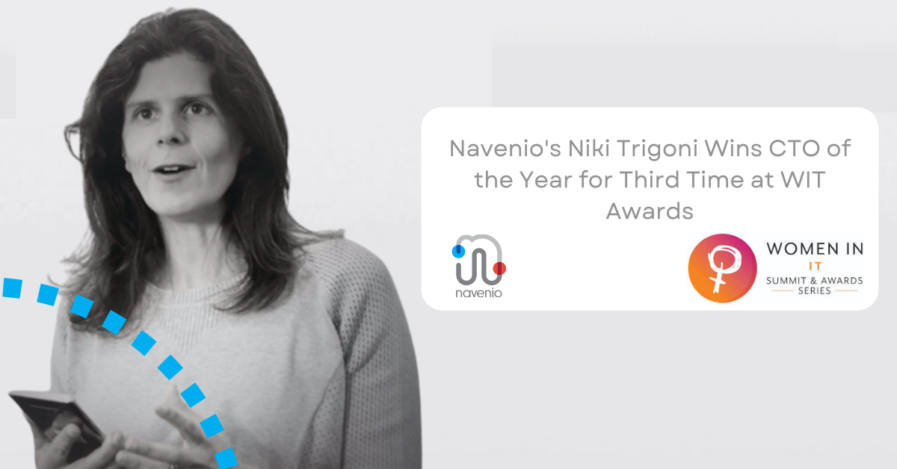 Niki Trigoni, CTO of Navenio, has been awarded CTO of the Year at this year's Women in IT Awards, for the third time. Niki was previously also named CTO of the Year in 2020 and last year in 2022, a testament to her work in the sector. 
The Women in IT Summit and Awards series celebrates outstanding contributions to the technology industry. Now in its ninth year, the prestigious awards have recognised and celebrated over 1,000 women, allies, and organisations across the UK for their outstanding contribution to the technology industry.
Niki has demonstrated to the judges her strong leadership and positive impact amongst the company's top line. She has proved to be a driving force in the industry, putting technology at the heart of Navenio and its efforts. 
This year's candidates were especially exceptional, with Niki having been shortlisted alongside Natasha Sayce-Zelem of Amazon Prime Video, Floriana Molone of Richmond and Wandsworth Councils, Georgina Owens of Liberis, Melanie Thompson of Ammonite Wealth Ltd, Nadine Thomson of MediaCom, Sandra Taylor of Worcestershire County Council, and Liz Rice of Isovalent / OpenUK. 
At Navenio, we are tackling the NHS backlog, with an infrastructure free real time location solutions (RTLS) that increases workplace productivity by up to 100%, freeing up clinical and non-clinical resources for other high value tasks. Niki has been at the forefront of this change at Navenio, with the technology to support staff workflow and help coordinate the workforce across hospitals in the UK.
Navenio is thrilled to congratulate Niki for this incredibly merited achievement.
To stay up to date and follow our progress, check out LinkedIn and Twitter for regular news.