Navenio's Niki Trigoni shortlisted for CTO of the year at the Women in IT Awards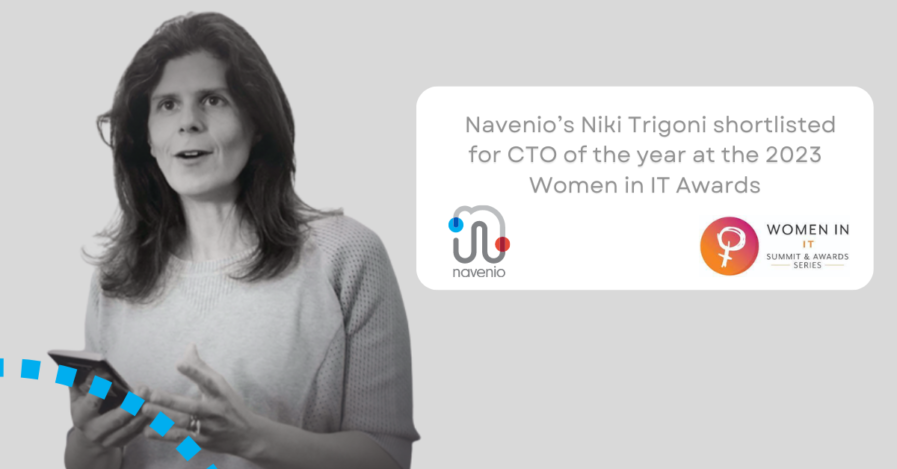 Our CTO, Niki Trigoni has been shortlisted for CTO of the year at the prestigious Women in IT Awards 2023 for a second year running.
The Women in IT Summit and Awards series celebrates outstanding contributions to the technology industry. 2023 marks the Awards ninth year, recognising and celebrating women, allies, and organisations across the UK for their outstanding contribution to the technology industry.
The category showcases the best examples of strong leadership and how individuals have employed a technology strategy to enhance product development and improve the service the company provides to customers. The category winner will be a senior leader who has helped put technology at the heart of the business, driving strong commercial results in the process.
Niki has been shortlisted alongside a strong group of female CTOs and CIOs including: Natasha Sayce-Zelem of Amazon Prime Video, Floriana Molone of Richmond and Wandsworth Councils, Georgina Owens of Liberis, Melanie Thompson of Ammonite Wealth Ltd, Nadine Thomson of  MediaCom, Sandra Taylor of Worcestershire County Council, and Liz Rice of Isovalent / OpenUK. 
The winners will be revealed on Thursday, 23 February, 2023, at the JW Marriott Grosvenor House, London. We will be wishing Niki the best of luck.
To keep up to date with news and views from Navenio, follow us on Twitter or LinkedIn