Women in Tech Excellence Awards 2022: Navenio's CTO and Founder, Niki Trigoni named as finalist in 'Woman of the Year' Category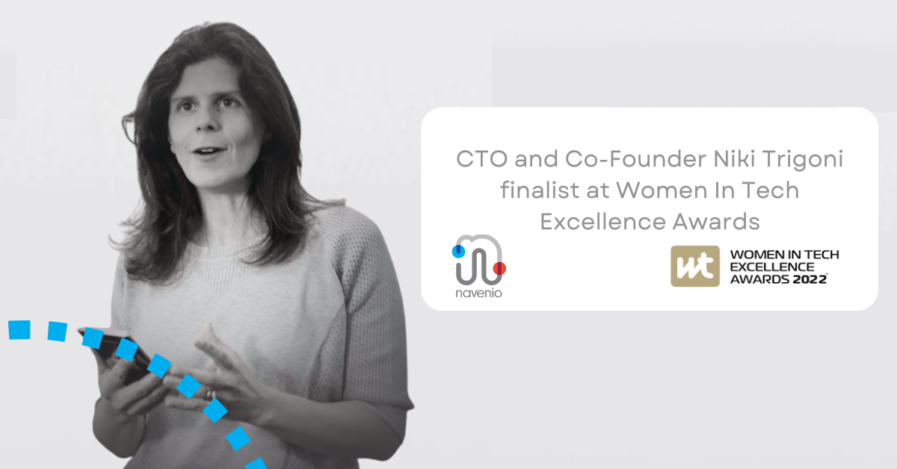 Navenio's CTO, Niki Trigoni, has been shortlisted as a finalist at the Women in Tech Excellence awards in the category of Woman of the Year – Tech.
The Women in Tech Excellence Awards recognise top-performing women from across the technology space and provide inspiration for younger women looking to build a career in our industry. We are proud to see her recognised alongside other stand out women in tech, from companies including Twitter and Amazon. 
Here at Navenio we always try to lead the way with an inclusive approach to all aspects of our business. We're well represented by females on the management team, unusual for a deeptech organisation which, according to Tech Nation, is usually 19% female.
Women represent 50% of the Senior Leadership Team (SLT) and a third of the company's total 89 employees, a figure which has climbed by over 10% in the last twelve months.
Navenio is proud to champion diversity and cultural inclusion. This is partly down to the ability to widen the net when recruiting, with a sponsorship licence which means the team can hire workers who require a visa. Founded by Niki, who is a Greek national, Navenio has a global workforce who are based in Europe, USA and as far afield as South Africa and Hong Kong. 
To stay up to date and follow our progress, check out our LinkedIn and Twitter for regular news.